Replacement SAMSUNG LFD DISPLAY TV Remote Control AA59-00714A, AA5900714A, NO PROGRAMMING REQUIRED suits all SAMSUNG Televisions.
Number on Remote Control: REPLACEMENT AA59-00714A, AA5900714A FOR ALL SAMSUNG TV's. Replaces all SAMSUNG TV remote controls.
Suitable for SAMSUNG Models: DB32D, DB40D, DB48D, DB55D, DE40C, DE46C, DM32D, DM40D, DM48D, DM55D, DE55C, ED32C, ED40C, ED46C, ED46D, ED40D, ED55C, ED55D, ED65C, ED65D, ED75C, ED75D, LE46C, LE55C, MD32C, MD46C, MD40C, MD55C, MD65C, ME32C, ME40C, ME46C, ME55C, ME75C, ME95C, PE40C, PE46C, PE55C, UD46C-B, UD46CB, UD46C, UD55C-B, UD55CB, UD55C, UD55D, UE46C, UE55C, LH32DBDPLGC/XY, LH32DMDPLGC/XY, LH32EDCPLBC/XY, LH32MDCPLGC/XY, LH32MECPLGC/XY, LH40DBDPLGC/XY, LH40DECPLBC/XY, LH40DMDPLGC/XY, LH40EDCPLBC/XY, LH40EDDPLGC/XY, LH40MDCPLGC/XY, LH40MECPLGC/XY, LH40PECPLBC/XY, LH46DECPLBC/XY, LH46EDCPLBC/XY, LH46EDDPLGC/XY, LH46LECPLBC/XY, LH46MDCPLGC/XY, LH46MECPLGC/XY, LH46PECPLBC/XY, LH46UDCBLBB/XY, LH46UDCPLBB/XY, LH46UECPLGC/XY, LH48DBDPLGC/XY, LH48DMDPLGC/XY, LH55DBDPLGC/XY, LH55DECPLBC/XY, LH55DMDPLGC/XY, LH55EDCPLBC/XY, LH55EDDPLGC/XY, LH55LECPLBC/XY, LH55MDCPLGC/XY, LH55MECPLGC/XY, LH55PECPLBC/XY, LH55UDCBLBB/XY, LH55UDCPLBB/XY, LH55UDDPLBB/XY, LH55UECPLGC/XY, LH65EDCPLBC/XY, LH65EDCPRBC/XY, LH65EDDPLGC/XY, LH65MDCPLGC/XY, LH75EDCPLBC/XY, LH75EDDPLGC/XY, LH75MECPLGC/XY, LH95MECPLBC/XY, LH32DBDPLGCXY, LH32DMDPLGCXY, LH32EDCPLBCXY, LH32MDCPLGCXY, LH32MECPLGCXY, LH40DBDPLGCXY, LH40DECPLBCXY, LH40DMDPLGCXY, LH40EDCPLBCXY, LH40EDDPLGCXY, LH40MDCPLGCXY, LH40MECPLGCXY, LH40PECPLBCXY, LH46DECPLBCXY, LH46EDCPLBCXY, LH46EDDPLGCXY, LH46LECPLBCXY, LH46MDCPLGCXY, LH46MECPLGCXY, LH46PECPLBCXY, LH46UDCBLBBXY, LH46UDCPLBBXY, LH46UECPLGCXY, LH48DBDPLGCXY, LH48DMDPLGCXY, LH55DBDPLGCXY, LH55DECPLBCXY, LH55DMDPLGCXY, LH55EDCPLBCXY, LH55EDDPLGCXY, LH55LECPLBCXY, LH55MDCPLGCXY, LH55MECPLGCXY, LH55PECPLBCXY, LH55UDCBLBBXY, LH55UDCPLBBXY, LH55UDDPLBBXY, LH55UECPLGCXY, LH65EDCPLBCXY, LH65EDCPRBCXY, LH65EDDPLGCXY, LH65MDCPLGCXY, LH75EDCPLBCXY, LH75EDDPLGCXY, LH75MECPLGCXY, LH95MECPLBCXY
This remote control is a replacement remote control for all SAMSUNG Televisions, it has all the major buttons and functions of all the original SAMSUNG remote controls.
No programming required, just add new batteries and this replacement remote control will operate your SAMSUNG TV.
Please check the button layout of this replacement SAMSUNG remote control to ensure it is suitable for your needs.
This replacement SAMSUNG TV remote control is great as an economical remote control for all SAMSUNG TV's.
Also great as a replacement for remote controls that are no longer available from SAMSUNG.
*Requires 2 x AAA Batteries*
Designed in Italy, made in China.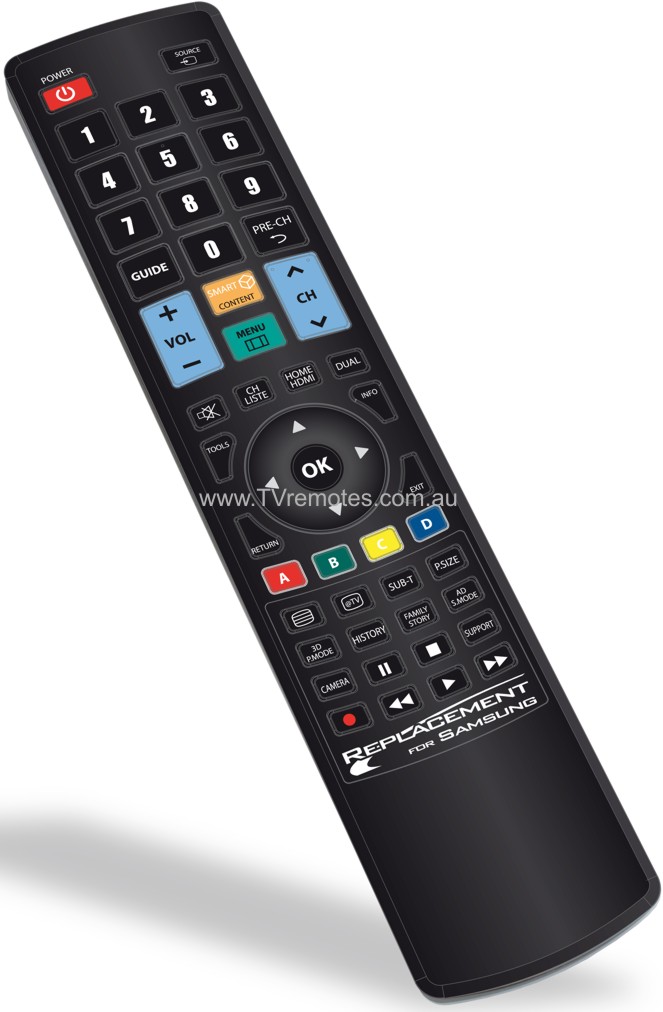 (RCSAMSUNGTV-AA5900714A)
| | |
| --- | --- |
| SKU | RCSAMSUNGTV-AA5900714A |
| Brand | SAMSUNG |
| Shipping Weight | 0.3000kg |
Be The First To Review This Product!
Help other TV Remotes users shop smarter by writing reviews for products you have purchased.
We Also Recommend
You May Also Like