Replacement Infrared Only LG SMART TV, LCD, LED, PLASMA Remote Control AKB75075301, AN-MR650A.
This standard replacement AKB75075301 remote control has NO Microphone, Voice or Bluetooth Functions.
It is a standard Infrared (IR) remote control, it has NO Radio Frequency functions.
Number on Remote Control:  AKB75075301, AN-MR650A, also known as ANMR650A.
Suitable for LG Models:  43UJ634V, 43UJ654T, 43UJ654V, 49SJ800T, 49UJ634V, 49UJ654T, 49UJ654V, 49UJ752T, 55SJ850T, 55UJ634V, 55UJ654T, 55UJ654V, 55UJ752T, 60SJ850T, 60UJ634V, 60UJ654T, 60UJ654V, 65SJ850T, 65UJ634V, 65UJ654T, 65UJ654V, 65UJ752T, 75SJ955T, 75UJ657T, 86SJ957T, OLED55B7T, OLED55C7T, OLED65B7T, OLED65C7T, 43UJ634V.ANR, 43UJ654T.AAU, 43UJ654V.ANR, 49SJ800T.ANR, 49UJ634V.ANR, 49UJ654T.AAU, 49UJ654V.ANR, 49UJ752T.AAU, 49UJ752T.ANR, 55SJ850T.AAU, 55SJ850T.ANR, 55UJ634V.ANR, 55UJ654T.AAU, 55UJ654V.ANR, 55UJ752T.AAU, 55UJ752T.ANR, 60SJ850T.AAU, 60SJ850T.ANR, 60UJ634V.ANR, 60UJ654T.AAU, 60UJ654V.ANR, 65SJ850T.AAU, 65SJ850T.ANR, 65UJ634V.ANR, 65UJ654T.AAU, 65UJ654V.ANR, 65UJ752T.AAU, 65UJ752T.ANR, 75SJ955T.AAU, 75UJ657T.AAU, 75UJ657T.ANR, 86SJ957T.AAU, 86SJ957.ANR, OLED55B7T.AAU, OLED55C7T.AAU, OLED55C7T.ANR, OLED65B7T.ANR, OLED65C7T.AAU, OLED65C7T.ANR.
The LG model number is usually on the back of your LG product, or on the front of your user manual.
This replacement type remote RC LGTV will replace all Genuine Original LG TV infra-red (IR) remote controls for TV, LCD, LED and PLASMA.
Please Note: this replacement type remote will NOT control any Bluetooth or RF remote control functions such as a pointer, microphone etc, however a great option if you prefer a standard size remote to control your TV, featuring a number keypad, great sized clearly labelled buttons including familiar LG remote control names and icons all on a very well planned button layout…
*Requires 2 x AAA Batteries*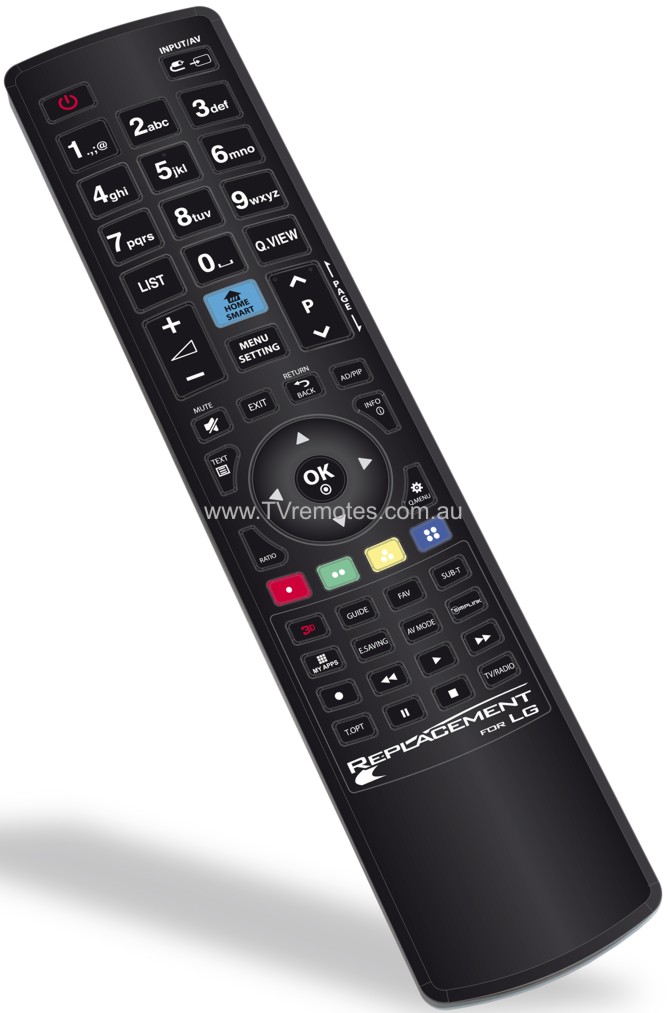 (LGTV-AKB75075301)
| | |
| --- | --- |
| SKU | LGTV-AKB75075301 |
| Brand | SAMSUNG |
| Shipping Weight | 0.3000kg |
Be The First To Review This Product!
Help other TV Remotes users shop smarter by writing reviews for products you have purchased.
You May Also Like
Others Also Bought